Whether you're writing a novel, short story, blog post or article, these ten simple strategies will help to refine your piece and make it shine.
1. Make a great first impression.
In the age of social media, the written word faces stiff competition from more visual content. Offer your reader something irresistible to entice them to read further. For example, this introduction to the article 'Active Cape Town', written for Explore South Africa, captures the reader's curiosity with an unusual opening:
'A blind person, a paraplegic and a 70-year-old grandmother have all done it.'

What may sound like the opening to a bad bar joke was, in fact, how Abseil Africa's Chris tried to motivate me to attempt the world's highest commercial abseil from just behind Table Mountain's upper cableway station, on the Camps Bay side.
Find out how using anecdotes and nouns can enliven your writing.
2. Check your facts.
If you want to be taken seriously, ensure that any factual information you provide is 100% accurate and up to date. Even in opinion pieces and fictional work, factual inaccuracies will stand out, and they can damage your credibility as a writer.
3. Write logically.
This doesn't mean that your story has to follow a chronological order, but make sure it's easy to follow. Frustrated readers who don't know where they are in a story are unlikely to stay till the end. Starting with an outline or mind map can help you stay on track.
4. Write naturally.
Outside of formal or academic writing, use a natural register. For example, use contractions ('wouldn't' instead of 'would not'), and don't be afraid to use the first-person perspective or everyday words and phrases.
5. Show, don't tell.
Use concrete examples to illustrate an emotion or atmosphere, rather than simply stating it. For example, 'He slammed down the phone' is much more immersive for the reader than 'He was angry'.
6. Vary sentence length and paragraph structure.
Writing becomes monotonous and repetitive when every sentence has a similar length. Similarly, when every paragraph has the same structure, readers begin to lose interest. Express one thought per paragraph and vary your sentence length for the desired effect. Short, punchy sentences create a sense of urgency, while longer, more complex ones suggest thoughtfulness and depth.
7. Be convincing.
It's good to have strong opinions. But simply declaring your approval or disapproval is not enough to win over most readers. Elaborate on your opinion to convince them of its validity.
8. Cite credible sources.
Add punch and credibility to your piece by appealing to authority. Citing experts and reliable sources gives your work gravitas and builds trust with your readers. Just don't forget to credit your source. Find out more about interviewing sources here.
9. Finish strong.
When you've finally reached the end of your piece, don't just let it peter out; give your reader something to think about. For instance, the conclusion to the 'Active Cape Town' article aims to inspire a sense of adventure:
When visiting Cape Town, by all means, relax on a perfect beach or sample world-class wines, but also take time to experience the active side of the city and its surroundings. Be inspired by this advice from Mark Twain: 'Twenty years from now you will be more disappointed by the things you didn't do than by the ones you did do. So throw off the bowlines. Sail away from the safe harbor. Catch the trade winds in your sails. Explore. Dream. Discover.'
10. Finally, edit.
You may have finished writing, but there's always room for improvement. Proofread your work for minor errors, and make sure that your paragraphs flow well. Yes, your editor will do that too, but it's always a good idea to self-edit before you submit your work.
---
Looking to take your writing skills to the next level? Want to learn the art of crafting compelling, thought-provoking articles? Look no further than our journalism courses!
You'll learn how to write engaging, well-researched stories that capture the reader's attention from start to finish. Our award-winning journalists will mentor you one-to-one, guiding you through the entire process, from brainstorming story ideas to conducting interviews and putting it all together in a polished, professional article.
Don't just be a good writer – become a great one. Find out more about our journalism and blogging courses today.
---
About the Author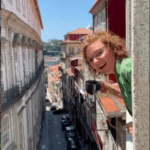 Rose-Anne Turner completed the Travel Writing Course at SA Writers College in 2008.
Since then, she's worked as both a freelance writer, focusing on travel and lifestyle and a staff feature writer for the Samui Holiday Magazine when living in Thailand. She's had articles published in both online and print media, including Explore Africa, Travel Ideas, Interval International, and Portugal Living, as well as inflight magazines The Holland Herald (KLM), Sawasdee (Thai Airways), and Morning Calm (Korean Air).
Rose-Anne now lives in Portugal, and aside from freelance writing, she also co-owns a TEFL (Teach English as a Foreign Language) training company, with branches in Thailand, Cambodia and Indonesia, helping those with wanderlust and a love of the English language find a way to live and work abroad.